| | |
| --- | --- |
| Coming up: WWCRQI Symposium 2018 | Tuesday, March 20, 2018 |
Our Benefits Realization (BR) team will be presenting some of our digital health research at this year's annual McMaster Waterloo Wellington Clinical Research and Quality Improvement (WWCRQI) Symposium – we hope to see you there! Details are posted below.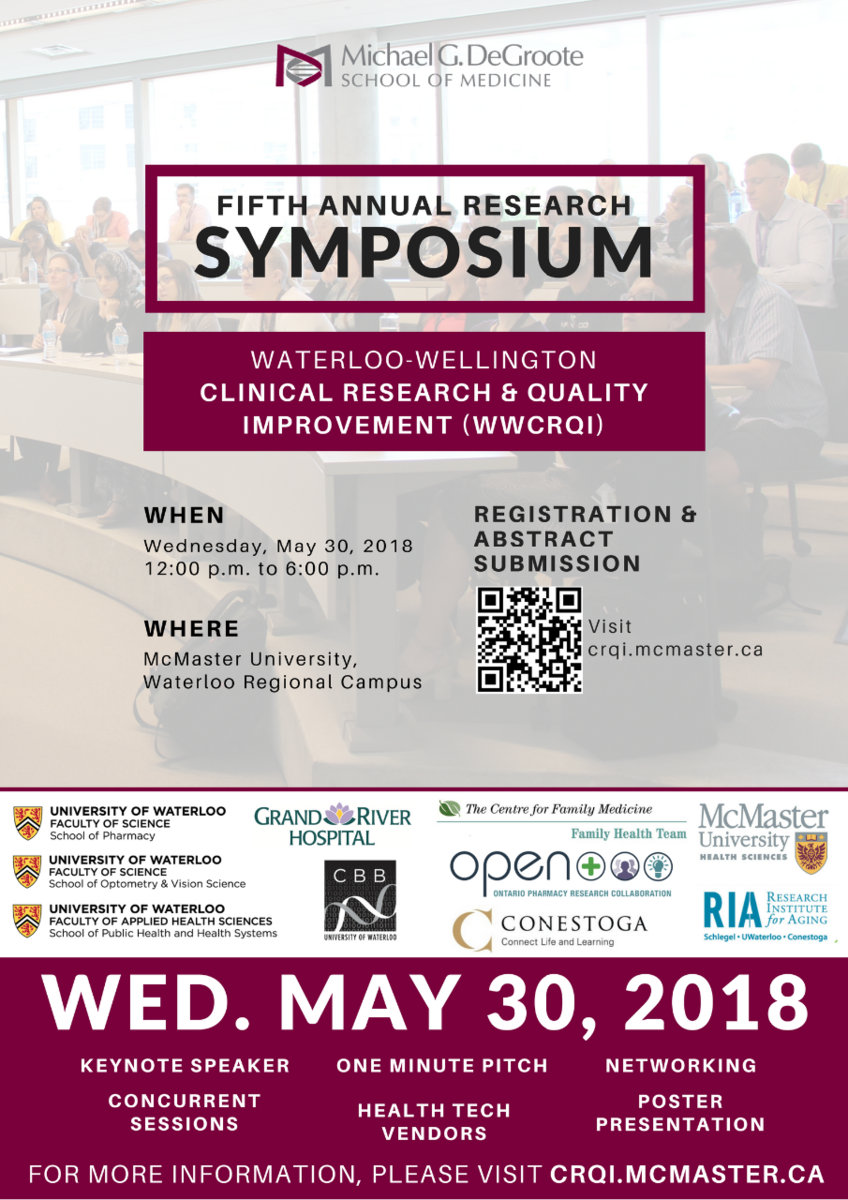 | | |
| --- | --- |
| | Hannele Kivinen at 11:00 AM |
| | |
| --- | --- |
| eCE participates in eHealth 2017 | Wednesday, June 14, 2017 |
At this year's National eHealth 2017 Conference & Tradeshow, which took place in Toronto from June 4-6th, the eHealth Centre of Excellence (eCE) was invited to participate and give presentations in a number of panels to share with attendees from across Canada some of the ehealth initiatives we've been leading.
First up, eCE Director Dr. Mohamed Alarakhia and QBIC (Quality Based Improvements in Care) Program Manager Danika Walden gave a talk called "Be Inspired by Easily Achieved Enhanced Use of the EMR!"  During the presentation, they spoke about how QBIC works with primary care providers in Waterloo Wellington to show them how to use their electronic medical record (EMR) in the most optimal way possible, enabling them to enhance the way they deliver care to their patients.
Next, in a panel called "Future Priorities in Digital Health", System Coordinated Access (SCA) Program Manager Lori Moran spoke alongside Sharon Baker, Director of Innovation Procurement at the Waterloo Wellington Community Care Access Centre (WWCCAC) about the unique methods – called "innovation procurement" – used to find a vendor capable of designing and deploying an electronic referral solution for the Waterloo Wellington region, and potentially beyond. The eReferral Proof of Concept is now in full swing (read an update here), thanks in large part to the innovation procurement process. Creative approaches yield creative results!

 

Learn more about innovation procurement in this issue of Canadian Healthcare Technology.

 

The SCA program also had a poster presentation on the process, designed by SCA Program Coordinator Paula Lee.
Finally, Dr. Alarakhia co-presented with Dr. Kirk Hollohan, the connecting South West Ontario (cSWO) Program's Clinical Lead and Dr. Ian Digby, Guelph General Hospital Emergency Department Physician, on cSWO's "Primary Care Data Sharing Proof of Concept: Enhancing the EHR." You can read about this presentation and more in cSWO's latest newsletter.
All in all, the eCE team had a great time presenting on some of our current digital health projects and learning about other ehealth initiatives not only in Canada, but internationally as well. Already looking forward to next year!
| | |
| --- | --- |
| | Hannele Kivinen at 10:00 AM |
| | |
| --- | --- |
| WWCRQI 2017: A day to share ideas | Monday, June 5, 2017 |
Team members from the eHealth Centre of Excellence were recently invited to give several presentations at the Waterloo Wellington McMaster Clinical Research and Quality Improvement (WWCRQI) Symposium.
It was a busy day, with Benefits Realization Specialist Julia Bickford (pictured above) kicking things off with a presentation on the connecting South West Ontario (cSWO) Program's Digital Health Drug Repository (DHDR), which is currently being rolled out across the region. The DHDR is an enhancement to the cSWO Regional Clinical Viewer, ClinicalConnect™, that enables authorized users to view dispensed drug data covered under the Ontario Drug Benefit (ODB) program, as well as monitored drugs (narcotics) and community pharmacy services (in addition to information on hospital pharmacy services, which was already available through ClinicalConnect). To view some of the BR cases that research the benefits of the DHDR thus far, click here!
Benefits Realization Specialist Lira Hyseni was next to speak, presenting with QBIC's Stephanie Chin (pictured below, left) on the Depression Screening tablets for Electronic Medical Records (EMRs) that are currently being tested by primary care providers in Waterloo Wellington. 
Lira (pictured above, right) was also responsible for a poster presentation on the benefits of EMR decision support tools.
Finally, System Coordinated Access (SCA) Program Manager Lori Moran teamed up with eCE Benefits Realization Practice Lead Lori-Anne Huebner and Orthopedic Specialist Dr. Tom Hupel to give the afternoon's keynote address on "Diagnostic Imaging For orthopedic patients: The problem and how eReferral can help." (Lori and Lori-Anne are pictured left.)

 

Their talk focused on the unnecessary use of MRIs in orthopedic care, which is adding up to delays in treatment for patients as well as high costs to the system. The new eReferral solution currently being developed in Waterloo Wellington has built in appropriateness guidelines that healthcare providers can consult when making a referral. These guidelines  will help the provider to determine whether or not their patient has the criteria that would necessitate an MRI – in most cases, a simple and quick x-ray will do the trick.

 

Overall, it was a great opportunity to get the word out on eCE initiatives and get feedback from people in our community – thank you to the WWCRQI for including us, and we hope to be back next year!
| | |
| --- | --- |
| | Hannele Kivinen at 2:00 PM |
| | |
| --- | --- |
| Upcoming EMR workshop hosted by QBIC | Wednesday, October 26, 2016 |
Please click here to download the PDF.
| | |
| --- | --- |
| | Hannele Kivinen at 3:30 PM |
| | |
| --- | --- |
| Partnerships in eHealth 2016 event | Monday, April 18, 2016 |
On April 13, the Centre for Family Health Team (CFFM FHT) eHealth Centre of Excellence (eCE) was delighted to host Partnerships in eHealth: Enabling our Residents through Personal Health Records at the Hanlon Convention Centre in Guelph. Attendees included representatives from the Waterloo Wellington Local Health Integrated Network (WWLHIN), eHealth Ontario, and connecting South West Ontario (cSWO) Program, as well as health service providers, clinicians, and patients. In his opening address, eCE Director Dr. Mohamed Alarakhia emphasized that 89% of patients surveyed in 2014 by Canada Health Infoway expressed a desire to access their health records.
"If we provide them with the information they need to make an informed decision, this will lead to more empowered patients." — Dr. Alarakhia
Dr. Alarakhia discussed several local initiatives that use technology to connect patients with information, before introducing cancer survivor Dave deBronkart to the stage to deliver the first keynote speech. "e-Patient Dave," as he is now known online, spoke to the room about his journey navigating the healthcare system.
He was surprised to discover that much of the information he needed could only be found through alternative channels, such as online message boards. He urged healthcare professionals to find new ways of sharing information with patients — and the next presenter, Deputy Minister of Health and Long-Term Care Dr. Robert Bell, talked about some eHealth 2.0 projects that intend to do just that. He also acknowledged that Waterloo Wellington is leading the way in Ontario for enabling technologies.
The symposium's final speech came from Tracey Carr from McMaster University's Department of Family Medicine, who shared some compelling projections (see stats below) that really speak to the importance of bringing patients into the circle of care. Attendees then divided into groups for the afternoon breakout sessions, giving them the chance to share ideas and insights on ehealth and patient engagement. Overall, it was a wonderful event and we thank all who participated. Hope to see you next year!
If Canadians (18-54) could access their personal health records:
– 47 million in-person visits to healthcare providers could be avoided
– 70 million hours in total would be saved
– 18.8 million fewer hours could be taken off work, which would add $400 million worth of activity to Canada's economy
Statistics from Conference Board of Canada (2012)
| | |
| --- | --- |
| | Hannele Kivinen at 2:30 PM |
| | |
| --- | --- |
| 2016 eCE event sponsorship invitation | Tuesday, March 15, 2016 |
Please click here to download the PDF.
| | |
| --- | --- |
| | Hannele Kivinen at 12:30 PM |
| | |
| --- | --- |
| "Canadian Institute for Health Research" event | Wednesday, December 10, 2014 |
On December 5th, 2014 the Centre for Family Medicine (CFFM) FHT eHealth Centre of Excellence co-hosted a research planning session funded by the Canadian Institute for Health Research (CIHR). A planning grant was awarded to researchers from the University of Waterloo, Laurier University, Conestoga College and the eHealth Centre of Excellence to explore the concept of interoperability of exchanged information in a regional electronic health record (EHR).
Interoperability begins with the premise that information systems need to communicate with other systems and with people. A technology platform build on standards can allow partners to execute business functions in new ways. Once the technology systems become interoperable, changes are possible for knowledge and service to become interoperable.
The planning session included health information systems researchers (Dr. Nick Anderson, University of California-Davis; Dr. Raza Abidi, Dalhousie University; and Duane Bender, Mohawk College iDeaWORKS), health service providers from Waterloo Wellington, Health Links, the cSWO program, the WWLHIN, Canada Health Infoway, and eHealth Ontario. The active discussion involved sharing some existing work and debating the best direction for technological improvements to patient experiences and care. The outcome of the meeting was a clarification of research questions that university partners can begin focusing on now to best inform future developments in regional EHRs.
| | |
| --- | --- |
| | Hannele Kivinen at 1:30 PM |
Contributors
Latest Posts
Archive
Tags
Everything
eCE Newsletter
cSWO Update
cSWO Notice
ClinicalConnect
HRM
SCA Program (eReferral)
QBIC
Benefits Realization
Workshops
eCE Events
Partnerships in eHealth Event
In the News
Telehealthcare
eConsult Spotlight
Digital Health Week
Webinars