The eHealth Centre of Excellence was delighted to be invited to participate in two presentations at this year's AFHTO (Association of Family Health Teams of Ontario) conference.
The first presentation, "What the Fax? Improving Patient Care With Ocean eReferral" was led by the System Coordinated Access (SCA) Program Delivery Teams. The teams demonstrated the value of the Ocean eReferral tool, which functions from within a primary care provider's EMR, or internet browser, to make the referral process more seamless and efficient for providers and patients. Since going live in August 2017, over 65,000 eReferrals have been processed and Ocean eReferral has since expanded to additional regions across Ontario.
For our next presentation, "The Digital Health Toolbox: Enabling High-Performance Teams In The Delivery Of Integrated, Patient-Centred Care," members from the eHealth Centre of Excellence gave an overview of the entire suite of digital health tools that we support – Virtual Visits, eConsult, Tablets, EMR forms and tools, eReferral and Electronic Health Record (EHR) tools – all of which are available for use today, with adoption support offered by our team of experts. These tools can be available to Ontario Health Teams.
This session, which was attended by approximately 150 healthcare professionals, CEOs, Executive Directors and staff, highlighted how these tools can be used together to support integrated care for patients across a spectrum of needs.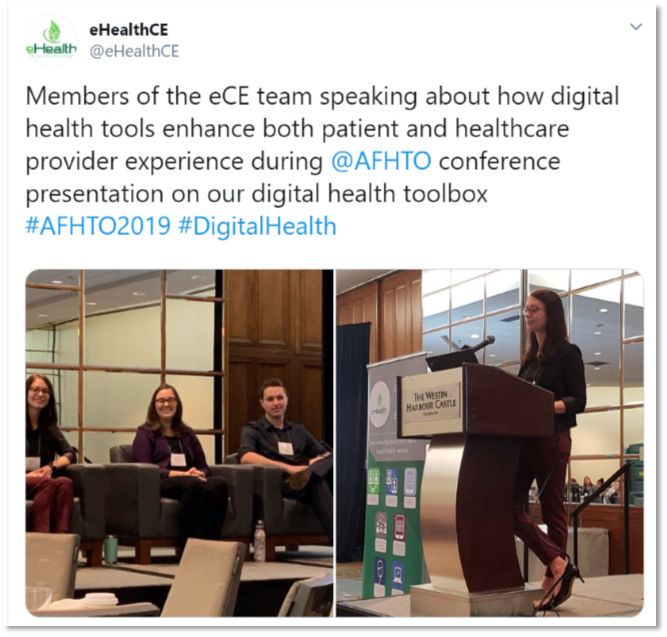 We ended the talk with a call to action:
How can your team leverage the tools presented to support the care they provide to their patients? Connect with us to support your journey as you transition into Ontario Health Teams!