We've had another busy and productive year here at the eHealth Centre of Excellence, and we're proud of what our team and partners across the community have achieved. We'd like to share a few of our highlights from 2019.
We were delighted when our Managing Director, Dr. Mohamed Alarakhia, was recognized as this year's recipient of the Canadian Health Informatics Award (CHIA) Digital Health Executive of the Year. Well deserved!
Our team was out spreading the word on the benefits of digital health adoption. We presented at several events and conferences, including but not limited to:
eHealth Canada 2019
AFHTO (Association of Family Health Teams of Ontario) – where we received top marks for best group presentation for our talk on our digital health toolbox!  Presentation pictured right.
And most recently, we participated in the eConsult Centre of Excellence forum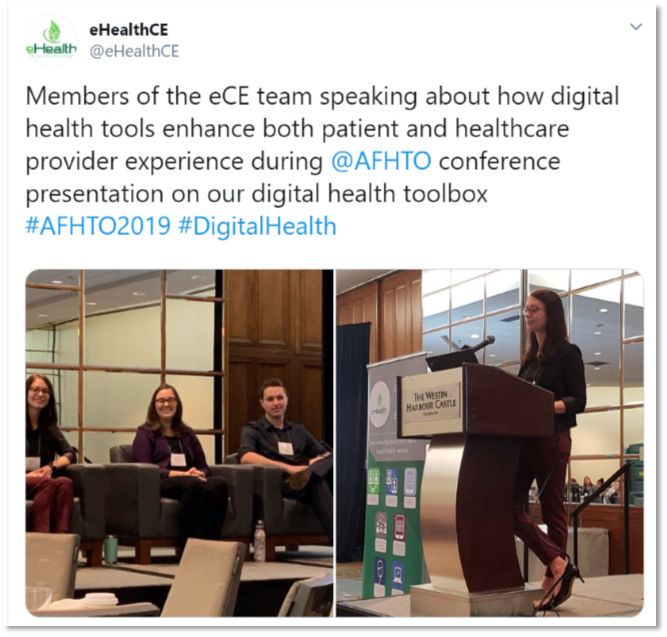 Our digital health tools also hit some big milestones! Read more below:
Virtual Visits
There have been over 18,000 virtual visits (as of December 15, 2019) in the Waterloo Wellington region since our program launched in March 2018 – the most in any region in the province!
We were featured in the Waterloo Record and on 570 News!
In May, the virtual visits team received the Patient Care Innovation Team Award at the 2019 Canadian Health Informatics Awards (CHIA) Gala and in November, received a jury-selected ITAC Ingenious Award for our work. Thank you to the Ontario Telemedicine Network (OTN) and Think Research for being great partners.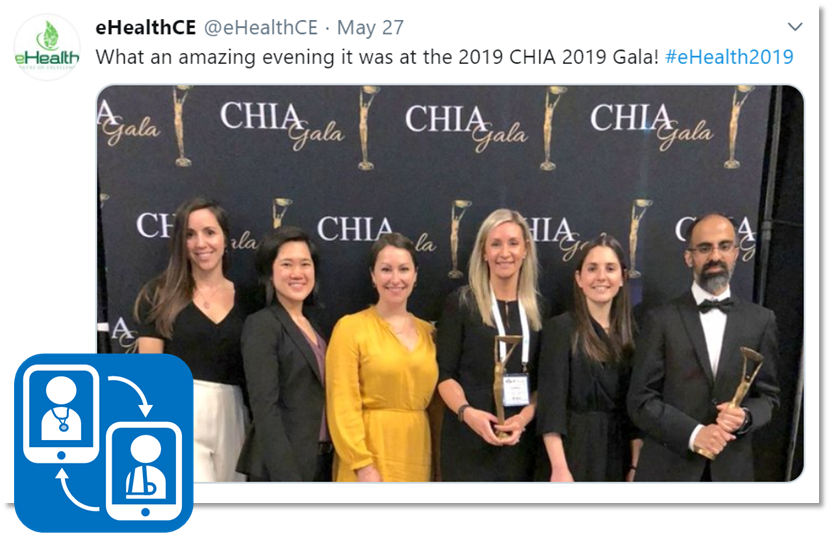 eConsult
In the Waterloo Wellington region alone, nearly 12,000 eConsults have been sent since we launched the program locally in October 2016, with the eConsult Centre of Excellence providing great leadership. 
Click here for an updated list of specialists from our region who are currently accepting eConsults. 
The OTN eConsult platform underwent a big upgrade in November, enabling clinicians to access their local specialty groups more efficiently.
Tablets
We expanded the forms available in tablets to include not only mental health assessments but other questionnaires as well. Patients are now available to update their personal information in the tablet. All information entered into a tablet is uploaded directly to the provider's EMR.
All Community Health Centres (CHCs) in Waterloo Wellington are now using tablets!
EMR Tools & Coaching
Our Community Portal launched! You can now download our EMR supports directly from the portal, and make use of the community forum to ask questions and provide feedback.
We made some great new updates for two of our EMR tools: the palliative care toolkit and our lower back pain tool.
In a recent survey (with more than 1500 participants), 96% of patients agreed that eReferral is an easy process and that eReferral notifications improve the patient experience.

We're looking forward to seeing what 2020 will bring! One thing is for sure: the future of healthcare is here.